AD
Consider a featured online health administration program currently accepting applications for 2023.
Click to search for online health administration programs that are currently taking applications for 2023.
The health care field is one of the leading providers of employment in the U.S. Many people choose to work in this field due to its presence within communities, and the availability of promotion through various ladders. The field of health care administration takes a slightly different look at the health care field than most applied positions, which is why so many people are interested in pursuing this route.
Health Care Administration is an intriguing field that can allow students to progress towards careers in leadership and management in health care. If you want to learn more about this field, read more in our guide below.
The Master's in Health Care Administration is a degree program that focuses on some of the broad aspects of the health care field. While you may think of physicians and nurses when you consider a career in this field, there are actually a lot more people behind the scenes that play large roles in the effective functioning of hospitals and health care centers.
With a MHA, you could potentially obtain a career working behind the scenes, providing leadership and management to organizations that provide care to the general public.
What is a MHA?
In MHA degree programs, students can learn about the financial health of health care organizations, and how to manage budgeting, taxation, and personnel. This information is relevant for individuals that plan to seek out management positions, or those that may wish to pursue careers in policy and law planning.
The curriculum for this program can also involve courses that educate students on the use of technology in hospitals, patient care, and preventative health care planning. Each of these topics is extremely important for health care centers that are tasked with caring for large numbers of patients each day.
If this sounds like a degree program that might interest you, our team of educational experts would encourage you to read more about the different types of degree programs available and what they require for admission below. Their research has returned helpful information that you can use along your way.
Click to search for online health administration programs that are currently taking applications.
What is the GRE and is it required for all MHA programs?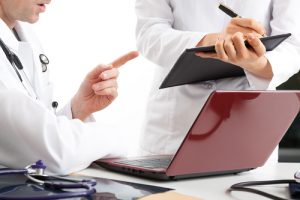 As you search for available MHA programs, you might notice that a lot of different universities have varying admissions requirements.
One requirement that is common in graduate-level programs is the GRE. The Graduate Record Examination (GRE) is a test that is often required for entry into master's level program, especially those that are offered online. This exam was initiated in an effort to test a student's general abilities in verbal reasoning, quantitative analysis, and analytical writing.
The GRE has long been an exam of reference for schools with a high admissions rate or for programs that do not have a work experience requirement. While it is a great way to tests a student's general abilities, some schools often substitute high undergraduate GPAs or work experience for test scores. Your search of available schools may return a large number of universities that still rely on the GRE or GMAT for admissions, but there are many available that do not require you to complete this exam.
When can/should I take my GRE?
Optimizing your options as a graduate student is always a great idea. One method of making the most of your selection is completing the GRE during your undergraduate experience. If you complete the GRE, you can possibly have more universities available for your MHA, which is a great advantage when it is time to enroll. The GRE can be completed at any point during your undergraduate experience, giving you plenty of time to pursue a satisfactory score. Some students choose to complete this test early on, while remnants of the ACT or SAT are still on their mind.
The GRE can be taken every 21 days, up to 5 times per year. If you are truly determined to score high on this exam, that gives you around 20 times during a standard 4-year bachelor's program to re-test. However, the results of the GRE are only good for 5 years, so it is important to consider this before you sign up to complete it.
Example courses to expect in the MHA program
While you are enrolled in MHA programs, the curriculum is bound to provide you with more information and insight into the inner workings of health care facilities within different domains. The courses listed below are just a few of the many courses that you might be expected to complete during your experience in this program, each providing detailed information into each subject.
Health Care Law and Policy
This course can potentially provide students with a better foundation for understanding in the implementation of law and policy in the workplace. Students in this course can possibly learn more about appropriate behavior in the workplace, employee/patient relationships and communication, informed consent, and the legal ramifications of maltreatment in health care. This foundation course is a great way for students to learn about the laws that govern their practice as health care professionals. Part of the plan for this course may include an in depth look at historical cases that set the stage for change in the health law system.
Strategic Health Care Planning
This class is marketed more towards the management-seeking students in the MHA program. While in this course, students can learn about the deep planning that goes into creating rules and policies within the health care system. A consideration for the community, economy, and human wellness is focused throughout this course, in an effort to help students use their planning skills effectively within the health care setting.
Health Information Systems
Since technology plays such a large role in the health care setting, students may expected to take this course as part of their standard curriculum. This class outlines some of the basic functions of health information systems from a beginner point of view. Patient information storage, billing, and data collection are a few different elements that students may learn about in this course, as well as troubleshooting and identity protection. Students that enroll and complete this course should have a better understanding of electronic health records and how they are maintained in health care facilities.
What are differences between MHA programs that require the GRE and those that do not?
There are many online MHA programs that have different types of admissions requirements for students that are interested. While the GRE requirement is not the only admission requirement that can vary from school to school, it seems to be the most popular requirement of interest for upcoming students. Programs that require the GRE for enrollment may have a higher application rate, no work experience requirement, or simply require the GRE as part of their historical admissions requirements.
For students that are moving into MHA programs, the lack of a GRE requirement might spark worries of a lack of quality for some institutions, which is definitely not the case. Schools that do not require the GRE often have complementary requirements that are relevant for their degree programs. For example, a school might not require the GRE, but may require that students have anywhere from 3-5 years experience as a leader within the field of healthcare.
Online MHA no GRE Details
Now that you have learned about the different types of MHA programs, you may want to know more about the structure and consistency of these programs. Depending on which university you choose, you may find that the programs differ slightly internally, but all contain a similar premise for MHA students. As you first enter into a MHA program, you may take introductory courses that are in place to help refresh your memory of undergraduate studies about health care and its purpose in society.
Once you have completed all of your introductory courses, most programs move into more concentrated courses that can teach you more about leadership, technology, patient care, finance, and law within the health care field.
Universities that offer the MHA may also offer concentration options for your degree program. You have the option of pursuing a specialty with your MHA or simply indulging in the generalist program. Depending on what interests you, either could be a good path. Some example concentrations are listed below for your information.
Health Informatics
Health Care Finance
Health Services Administration
Nursing Administration
Clinical Nursing Administration
Health Care Management
Choosing a degree specialty can help sculpt your degree program into what you desire as a health care professional. The length of programs may vary by institution, but the average completion time for the MHA for full-time students is 2 years. Some schools that offer the MHA, including the online degree programs, may also require that students complete an on-campus residency as part of their program requirements. It is always important to review your desired program for these types of commitments prior to enrolling.
Notable Schools Offering MHAs with no GRE
University of Southern California
USC currently offers an Executive Master's in Health Administration for students that are interested in moving ahead in their degree program. The requirements for this program include an on-site residency that is completed before completion of a degree. Students that are interested in applying to this program must have a bachelor's degree from an accredited university, a GPA of 3.0 or higher, 3 letters of recommendation, a resume, personal statement, and a minimum of 5 years working in the field. Since this program requires work experience, there is not currently a GRE requirement.
University of Scranton
The University of Scranton has an online MHA program that is designed for professionals that want something more within their current career. Students that wish to enroll in this program must complete an online application, submit a professional resume and statement of intent, provide 3 letters of professional reference, and have a minimum of 3 years working in the field of health care. These requirements are put into place to ensure that applicants of this program have the historical requirements needed to gain the most from the program.
Maryville University
Maryville University provides an online MHA program with no GRE or GMAT requirement. This program allows students to graduate within 2 years, offers 4 concentration options, and has no on-campus requirements. Students that are interested in this program must complete an online application, have a minimum of a 3.0 undergraduate GPA, have a bachelor's degree from an accredited university, and personal qualifications letter. Through this program, students can learn more about what it takes to thrive within the field of health care administration.
Career Outcomes / Day to Day Job Responsibilities of Graduates of the MHA
Once you have completed a MHA program, there are many opportunities in terms of careers within the huge field of health care. Our team of educational experts has years of experience in researching degree programs and outcomes within the health care field and beyond. They have provided a list of common job titles for graduates within this field below for you to review.
Health Care Administrator
Finance Director
Health Care Policy Planner – Government
Patient Advocacy Director
Health Insurance Provider/Director
Health Care Consultant – Law, Court, and Insurance
Within these different roles, you might have varying responsibilities that include leading teams and providing expertise when needed. Our team has also provided you with a short list of common job responsibilities within these different positions. Read more about this below.
Managing large teams of health care specialists
Budgeting, purchasing, and sales
Training employees to use patient information systems
Planning, implementing, and reviewing health care policies and laws
Providing insight during medical court cases
Managing teams of insurance professionals for patient insurance companies
BLS MHA Career Salaries