AD
Consider a featured online health administration program currently accepting applications for 2023.
Click to search for online health administration programs that are currently taking applications for 2023.
Hospital management is a career field that requires professionals with higher education and experience within the healthcare field. Students that desire a change of pace in their current careers can pursue degree programs that can help shape their skills into those required for positions such as this one.
The MHA - Hospital Management degree program is an excellent choice for students that are interested in learning more about the policies and procedures present within the healthcare field and the skills required to be an effective leader.
The MHA - Hospital Management degree program helps students focus on the inner aspects of a successful healthcare organization. Students can learn more about leadership practices, task assignments, human resources, and healthcare law during these degree programs.
The ideas and skills that are highlighted throughout these programs can contribute to the creation of more knowledgeable and culturally-sensitive leaders that are focused on success and great patient care. Upcoming students that decide on this path can find universities across the U.S. that provide great quality programs that can promote success within their careers.
Online and traditional programs are available, which can help students choose a path that works for their own personal needs. The topics that are covered within these programs can range from general information about the field of healthcare to specific techniques for providing excellence in management within this field.
Click to search for online health administration programs that are currently taking applications.
The search the perfect degree program can often be filled with moments of confusion or becoming overwhelmed due to the large amount of information that is provided from universities about their degree programs. It is important that you do not overlook different aspects of your chosen degree program when making your decision, so that you receive the best quality of education during your experience.
Our team of educational experts has brought together this guide to help you learn more about this specialization within healthcare administration. As you read through the information below, consider where these employment positions and educational requirements are suitable for your personality and lifestyle.
Common Courses in Hospital Management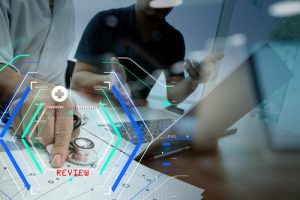 Entering into a MHA – Hospital Management degree program can be a truly exciting experience. The courses that students can take within this program may pertain to the history of the healthcare field, as well as the progression it has had over the last decade. Courses may also consist of topics that are relevant to leading a large team of medical professionals and the skills required to successfully manage a daily influx of patients in a hospital setting.
Different MHA specializations can have diverse course offerings that help students learn more about their chosen specialty. The hospital management specialty may consist of courses that focus on the need for effective leadership in the healthcare field, as well as the function and processes of healthcare facilities in different medical areas.
The list below can provide you with more specific information about the courses that can be found in these programs, so feel free to read more below.
Leadership Methods in Healthcare: Students that enroll in this course can learn about the principles of leadership within the medical environment. A look into healthcare policies and programs may be included throughout this course, as well as the different methods for dealing with conflict in the workplace. Different topics such as finance, directing, and policy review may also be discussed throughout this course.
Healthcare Accounting: In hospital management degree programs, students can learn about the different leadership responsibilities of professionals at this rank. Accounting and financial management is a large portion of management at this level. This course seeks to help students better understand the methods for budgeting, spending, and creating financial statements concerning the healthcare environment.
Human Resources in Healthcare: This course may outline the role and duties of the human resource professional in the healthcare environment. Students may learn how human resources assists with creating an open environment for all employees, ensures fair practices in the workplace, and the plans and policies available to employees. Regulations and rules regarding employees in the workforce may also be described in depth throughout this course.
Estimated Cost and Length of a Hospital Management Degree
Students are often drawn to programs that offer the option of completing a degree early or those that have a lower tuition cost than other universities. If you have researched educational programs in the past, you may already be aware of the different attributes of college degree programs can very greatly depending on where you are looking and the type of degree program you are searching for.
The small list below consists of a few universities that offer the MHA program to students all over the country. Take a look below to see how the completion times are similar, but the costs are very different at each. It should be noted that these are estimates pulled from data on each program's provided data on their respective sites.
The University of Southern California – Masters in Healthcare Administration – Management – 2 years – $55,320 per year
Saint Joseph University – Masters in Healthcare Administration – Leadership – 2 years – $870 per credit hour
Oklahoma State University – Masters in Healthcare Administration – Leadership – 2 years – $223.30 per credit hour
Common Career Paths
Pursuing a degree that focuses on management can lead to many different types of career options in the field of healthcare. Since there are so many different specialized areas to pursue in this field, students may be able to apply for positions that display different types of leadership in hospitals, rehabilitation facilities, medical research, or even specialty fields such as dental health and optical health.
These various career fields may require more than just a degree from those that pursue them. Leadership positions in the field of healthcare may require applicants to have some experience working in the field of healthcare alongside their educational degree.
If you have some experience working in the healthcare field, you may have a better change at obtaining the most lucrative careers available. The list below gives you a run-down of some of the most popular career titles for MHA – Hospital Management degree earners.
Clinical Director This career path can encompass may different fields within the general field of healthcare. You can work in diverse clinical settings, such as medical, dental, optical, or even specialty fields. The primary role of professionals in this field is to ensure that operations are going according to plan, employees are working according to policy, and all fundamentals are covered on a daily basis.
Financial Manager Financial managers are more focused on the monetary outlook of the healthcare facilities in which they work. These professionals often partner with other management officials during the planning process and can provide financial outlooks for overall planning. In the field, financial managers may oversee accounting, spending, and budgeting of their organization.
Nursing Director Some positions in this area may require applicants to have some background in the field of nursing. Since this career options requires professionals to oversee the operations and conduct of registered nurses, having an undergraduate degree in nursing and a MHA may be the best combination of degrees for this career. Employee management, patient care quality, and financial oversight may be a part of the responsibility in this field.
Records Management In records management, management professionals may be responsible for overseeing a team of records specialists on a daily basis. A background in health informatics may be required in this field, since most patient records are kept on secure computer systems in the healthcare field. This component of the healthcare field is extremely important and requires qualified leaders that can help ensure that records are kept timely and accurately.
Office Management Office management is the central component of effective operation in the healthcare field. Obtaining a career in this area can help you have widespread oversight into the healthcare centers daily operations, patient intake, and quality control. Professionals in this field may be responsible for ensuring that patients are treated fairly, receive adequate treatment, and are directed accordingly.
Hospital Management Salary Information and Estimated Career Growth
One important thing that most students consider before entering into a degree program is their ability to earn with their chosen degree. While some people try not to focus on the monetary aspect of their career, it is very important to consider due to the need for ample earnings in today's society.
Having a career that you truly enjoy that still provides well for individuals and their families is a great feeling that most students are searching for with their careers. The careers listed below are some of the most common for those choosing to work in this field. Review these salaries below to see the most profitable areas to extend your expertise in healthcare leadership.
Medical and Health Service Managers: $96,540 on average per year (BLS).
Administrative Service Managers: $90,050 on average per year (BLS).
Educational Services NPs: $98,760 on average per year (BLS).
FAQs
What is the average day like for a hospital manager? Hospital management can consist of many different daily responsibilities. As you probably know, the healthcare environment is fast-paced and often requires quick thinking. Managers in this field may be responsible for providing supervision to teams of doctors or nurses that are working with the public. They may also keep up with attendance records, submit ideas for improvement, and ensure that all employees are working in accordance to healthcare laws and regulations.
Do I need work experience to be considered for this degree program? Obtaining your degree in hospital management is a great way to get started with your journey towards the top of the healthcare chain. Most students that enter into these degree programs have some experience working in the healthcare field. In many hospitals and healthcare facilities, professionals with work experience may be more likely to be considered for top-tier positions. If you want to get the most out of your masters degree, it is recommended that you obtain some work experience alongside it.
What types of settings can I work in? This degree program can teach students how to become effective leaders in the healthcare field. Once you have obtained your degree, you could seek out leadership positions in hospitals, rehabilitation centers, retirement homes, community clinics, or even specialty clinics. The skills that you can learn throughout this degree program can bring in a large amount of potential opportunities for you to choose from.
AD
Consider a featured online health administration program currently accepting applications for 2023.